Hikeseekers Hike to Sombasson Waterfalls
by hiker Merlana Henry
On Sunday 5th June I left home at 7 am and travelled along the Churchill Roosevelt highway to the Arima hospital, the meeting point for the hike. Once at the hospital, I excitedly jumped out of the car and walked towards the smiling faces that greeted me, some familiar, most new.
For me the adventure started as I manoeuvred my vehicle along the narrow and winding road of Guanapo. Several dark-bellied clouds scudded across and veiled the sky in grey. "It looks like we're going to get some heavy showers today" I said to my fellow hike seeker. "So it seems but we can't let a little rain stop us" he replied. After a 40 minute drive along the forest-lined dirt road our group of 20 (15 trinis and the Reed family of Colorado) arrived at a quarry, the starting point of our adventure. We were ready to conquer the Guanapo rainforest!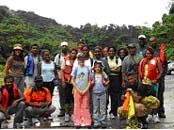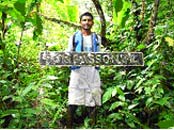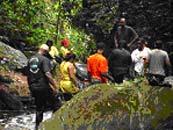 At the mouth of the rainforest we were welcomed by felled trees and huge tyre tracks. The forest's pristine beauty fractured by man's indiscriminate, greed motivated activities. A half hour later, after slogging through boot-sucking mud, we arrived at a small stream. Here we washed our feet before entering the wide expanse of virgin forest. We were led by Laurence "Snakeman" Pierre, hike master of Hike Seekers of Trinidad and Tobago club. " Snakeman" is a boisterous man, well built with penetrating eyes. His warm personality punctuated by a raucous laugh quickly put the neophytes at ease. "Snakeman" is widely considered to be one of Trinidad's best wilderness scouts. On this particular hike he was ably assisted by hike leaders Calvin Crawford and Leon Rougier.
With a slight drizzle as our blessing we proceeded in single file and disappeared into the dense electric greens and rain-soaked browns of the forest. The hike was gruelling with a series of steep inclines that required fitness and a large dose of endurance. At certain points, the trail seemed to be too much for 7 year old Sophia, myself and a few other hikers but encouraged by "Crawfie" and others we trekked along, dodging overhanging branches and thick vines, climbing rocks and crawling across the thick trunks of fallen trees. However, the demands on our bodies were a small price to pay for the breathtaking beauty that surrounded us in the forest.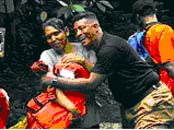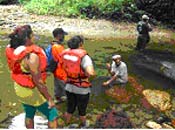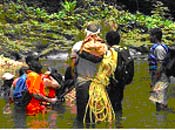 The Guanapo forest hosts a rich assortment of inhabitants and we were fortunate enough to experience some of them. A variety of birds cried out their greetings from the canopy overhead, mountain crabs peeked out of their holes to bid us good day and a cloud of big blue butterflies danced ahead of us part of the way, as if welcoming us to their habitat. As we continued along the strenuous trail, the little streams of fresh, cool water were like oases in the desert. At last, after the three hour challenge the Sombasson waterfall loomed ahead of us, nestled in the hillside. Most of us were happy and relieved to see the waterfall and we rushed towards it to allow it's powerful gush of water to massage our bodies and provide temporary pain relief. We spent an hour at the waterfall before starting off on our journey back.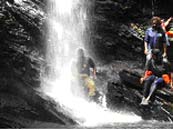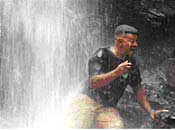 The 2 hour hike back though challenging, was a little easier since we opted to swim through the Guanapo gorges. After a short hike across land, we climbed onto a tree branch and made an 8 foot jump into the cold river down below. From then on it was mostly swimming. We swam, tiptoed across slippery rocks and swam. Well-equipped with rope and life jackets "Snakeman" and the other hike leaders guided us safely along the Guanapo river, through the gorges, back to our starting point at the quarry.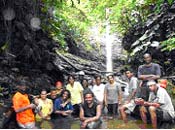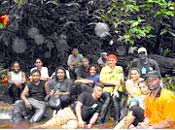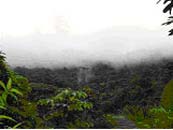 It was a day well spent in good company. Hiking with this fun loving group is always a good form of stress relief and a great way to discover the hidden wonders of our beautiful island. Friendly teasing from "Snakeman" and "Crawfie" helped the less brave among us to conquer their fears of the wilderness and helped to take our minds off of the challenging activity.
As we got into our individual vehicles to head back to "civilization", we called out to each other promising to meet up again in two weeks on the next hike. According to the schedule the next hike is on June 26th to the Guanapo waterfall and gorges and promises to be another wonderful adventure.
Hope to see you there!