Thriller: Trinidad's Guanapo Gorge
By Mike Perrin
Originally appeared in The Caribbean Compass Oct 2011 issue, reproduced with kind premission from Mike Perrin.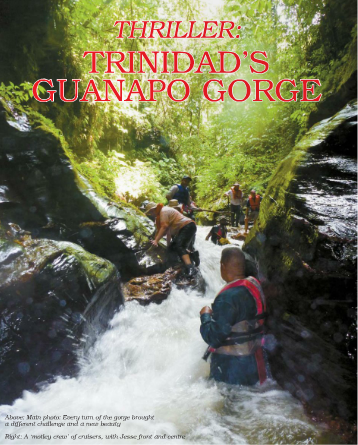 As cruisers from the UK, my wife, Pat, and I look upon our boat, El Lobo, as a portable home from which we can explore the countries we choose. We enjoy hiking, and in Trinidad we consulted intrepid taxi and tour operator Jesse James. He sug¬gested visiting the Guanapo Gorge. He had done it before and thought it would live up to our expectation. I announced the idea over the cruisers' net for a couple of days and in a short time we had a full complement for Jesse's bus. Those who took part were David and Angie from Hurrah, Neville and Glenys on Alba, Ian and Jackie on Blackthorn Lady, Joe on Peregrine, Rixzene from Pogeyan, Gerwald and Corinna on Bellatrix and of course Pat and yours truly — a motley crew ranging from the almost geriatric to the slightly younger and more supple.
We also liased with Laurence Pierre, alias Snakeman (or Snake to his friends), who was to be our guide. Snake recommended that we wear long pants and sleeves, and bring a packed lunch, bug repellent, a change of dry clothes and a life jacket. This last item could have been a problem, as the inflatable type we use for sailing would not fare well in the conditions we were going to encounter. Help came from our friend Peter on Passagemaker, an old traditional motorsailer, aboard which he inherited numerous items including a multitude of buoyancy aids.
Getting There
So the date was set and after a 0600 hours pick-up from our various marinas, off we went, heading for Arima where we met Snake at one of Jesse's favourite 'doubles' stops where Jesse then treated us all to one of his favourite snacks. The gang was augmented with a few more in a Toyota Hilux, two of whom were Jesse's brothers, Daniel and Davy. Their friends Billy and Mark completed the team. Once fed and watered we set off into the Northern Range, climbing all the time. As we progressed, the area became less densely populated and the roads worsened. We met little traffic and by the time our convoy reached the start point of our adventure there were few houses. We parked at what would be classed as a viewpoint in a tourist area, with a view across the valley to the mountains on the other side.
Here, Snake gave us his pep and safety talk and explained what we were about to subject ourselves to! He also reminded us why we should cover ourselves when walking. We would be walking through a rainforest that does have snakes, and anything you can put between them and you can only be beneficial. There are also the bugs that look for something to annoy, plus we would be likely to encounter razor grass and a few thorns. We were also advised that the trip could be called off at a moment's notice if the weather turned nasty.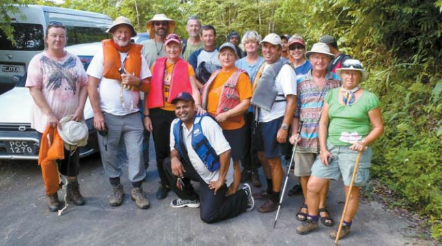 We set off down a steep track, which at some time in the past had been tarmac. What was going through my mind (and probably everybody else's) was that we were going to have to walk back up this. We reached a disused cocoa house and regrouped under a mango tree with ripe fruit and fed off its abundant store. Around this cocoa house there was of course an old cocoa plantation and there are still a few trees left, which Snake pointed out to us. Refreshed, we set off, descend¬ing farther into the valley along a barely discern¬ible trail when the heavens opened. We then knew we were in a rainforest! The trail led into a small watercourse, which with the rain was flowing well. As we followed this stream it then joined on to another larger one — the Guanapo River. This was the start of the gorge.
The Gorge
The gorge is narrow with high cliffs either side. Our first of many challenges along the route was a waterfall about six feet high and no way of climb¬ing down. We had to jump into the water from the top of the fall. There was no backing out. Luckily the water was warm and the plunge was quite invigorating. The water was deep and we had a short swim to shallower water. It was then that we all appreciated the life jackets, as swimming in the turbulent water with a backpack would have been a little hairy.
From here we walked and sometimes swam to the next obstacle, which was a choke with bits of a tree and branches. It was at a narrow point, which made the current quite a bit stronger and not so easy for the non-fluid human form to pass through. So it was a scramble over the branches and into more deep water, trying to avoid getting feet tangled in what was underwater and invisible. Here it was not so much of a swim as just letting yourself be carried along in the current until your feet could touch bottom again.
The cliffs are about 100 feet high in places, with beautiful undulating curves that have been carved out by the water over thousands of years. At the top are trees and ferns, vines and creepers, hanging almost down to the water. You could almost imagine Johnny Weissmuller swinging overhead trying to see where Jane had got to with the shopping. Every turn of the gorge brought a different challenge and a new beauty. In places the gorge narrows to where you can touch both sides at the same time. It then dawns on you that if there was really heavy rain, this gorge could become impassable in a very short time through the sheer volume of water. We saw very little wildlife in the gorge and soon I began to wonder what it was that they knew that I didn't!
We did a couple more waterfalls and then came to a narrow bit with the water just cascading through. It was a matter of sitting down in the water and letting yourself be carried, at some speed I might add, through the chute and around the corner. Others who had passed through were out of sight so they were unable to warn followers that there were a few small boulders within the chute that had little respect for bottoms, so most of us finished up with a few bruises on the fleshier part of our anatomy. Angie, however, managed to acquire a rip to the back of her shorts and was exposing more of her anatomy she would have wished. Prepared as we were, nobody had a sewing kit to alleviate her embarrassment. In true British style she carried on regardless.
Our next obstacle was yet another waterfall, with a large tree trunk forming part of it. Here Snake tied a rope to the tree and Jesse was the first down. It was about a ten-foot drop but the water was too shallow to just jump down, so in turn we lowered ourselves down the rope and Jesse was there to assist before another swim along a twisty passage before we could touch bottom again. Jesse had to avert his eyes as Angie came down the rope!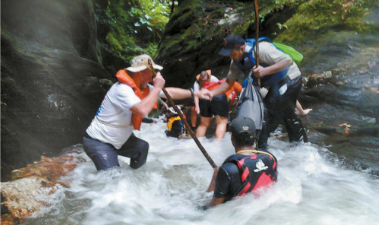 A Respite
After a longer swim/drift we came to a shallower stretch and a wide bank where we stopped for lunch. This was when we found out whether our attempts at water¬proofing our packages were successful or not. There were a few soggy sandwiches but most of us enjoyed reasonably dry sustenance. We discussed our experience so far and it was unanimous that this was a real adventure. Snake had taken all the precautions that could be expected in a sane world. However, at the start of the trip, Snake indicated a secret spot where he had hidden the keys to his car in the case of an emergency. However if such an emergency occurred, we reckon that we would be hard pushed to even find his car from where we were!
During lunch we were treated to an aerial display of some Blue Emperor butter-flies. These are butterflies with a wingspan of six or seven inches, with brown undersides to their wings but beautiful iridescent blue topsides that literally sparkle in the sun. It seemed a privilege to witness their display as part of their com-paratively short life. The only other life we saw were some rather ornate dragon flies with either red or blue bodies, but I felt that there must have been other eyes upon us from the canopies of the trees as we plunged through the gorge.
Farther Downstream
Our trip was by no means over. After a short rest we headed off farther down-stream with the gorge now behind us. We waded along the watercourse to another small waterfall and then into another narrow section, which was also deep. So another swim and drift along at a little more sedate pace to the next set of shallows. We then came to a tributary emerging from another small gorge with a semblance of a small island at its mouth. Snake indicated that there was a small waterfall and a pool at its base, but the current issuing was fairly swift, so the local lads went in with a rope to assist those who wanted to have a look. As soon as this was rigged, the heavens opened with a heavy downpour. Snake then shouted to those who had started in to come back out. Any extra water coming through this narrow gap would have made the stay inside untenable and the passage back out extremely dangerous.
We were already wet so the rain didn't bother us much. We were just a few yards now from the entrance back into the jungle and the trek back to our transport. Snake led us up through the forest at a pace that we all could follow, so that the group was always together without stragglers. This was not a well-used path and difficult to follow, but Snake knows his job and successfully led us along a route he knew. After a long steady climb back up through the trees and undergrowth we eventually arrived back at the cocoa house and the mango tree and a short, well-earned rest.
Getting Back Up
Now we had the steep climb back up the track to the 'main' road, the bit I was not looking forward to. We trudged up the hill at a really slow pace, some of us slower than others, and when we were about halfway Daniel came down the hill in the Hilux to collect the stragglers, of which I was one. We jumped on board as he was still going down hill and hung our legs over the back. 'Jumped' may not be the correct word here, it was more like a mammoth effort to heave our aching bodies up that massive three feet into the back of the truck. I couldn't turn my body to be able to see just how many had climbed aboard, as I was well jammed up against another body. (It felt female, but gentlemanly conduct prevents me from revealing which part of which body gave me some comfort on that ride back up the hill.) I reckon if anyone else needed a ride, we would have had to start another layer of bodies! However when we turned to go up, the hill was so steep that Daniel had to put on some power and Ian and I nearly shot out of the back. We had to stop the truck and raise the tailgate before the bumpy ride back up the hill. It wasn't comfortable, but it was a case of "de third class ridin' better dan de firs' class wallkin"! Once at the top, it was into some dry clothes and the lads, bless 'em, had cooked up some pilau rice with chicken and a salad, enough to satisfy our hunger and top up our energy needs. I learned later that Daniel and Mark had been up at 4:00Am to prepare our meal and believe me we really appreciated their effort.
We said our goodbyes to Snake and the lads, who we now know were there to make sure we all got through, and boarded Jesse's bus for the journey home. Even though it was a bit of a bumpy ride back down the mountain, I think we were all pleased just to be sitting down. We had a short stop where we all enjoyed a cold beer at a roadside shop and we were back at our respective marinas by about 1730 hours. A truly memorable day and one we will talk about for years to come.
Things to Know
Laurence Pierre, a.k.a. Snake, runs a small company called Hike Seekers and his webpage, www.hikeseekers.com, will give you an idea of the schedule he arranges and the variety of tours and trips. He also has a section with pages of advice for hikers and campers in Trinidad and even if you are not going with Snake, these pages are well worth reading and taking notes.
Jesse James owns and runs a maxi taxi service and is well tuned in to the needs of visiting cruisers. Despite inheriting the name of a famous bandit, he is an all-round good guy and a good friend to cruisers; he takes our problems seriously. His office is in Chaguaramas, which is where all visiting cruisers are moored or hauled out. He has regular trips to the shopping areas, movie nights as well as outings to the popular tourist spots. However he is also accommodating to trips like the above and is a keen hiker himself. He can be contacted on VHF channel 68 or on his webpage www.membersonlymaxitaxi. com.
Trinidad is an island of vast natural beauty. It has a range of wildlife that can be seen if you know where to go. There are guides such as Snake who have intimate knowledge of the island and there is much to discover depending on your own ability and willingness to really see the things that you would not normally see. The opportunities to explore here are almost boundless and the photographic possibilities endless. This is our third hurricane season here and I have seen no other island where I would sooner be for shelter and haul-out as well as for the friends we have made. We are always sorry to leave but it feels like home when we return.
Thank you, Trinidad.